Changing Trends of Brain Tumors at Kenyatta National Hospital in Kenya: A 12 Year Picture
Keywords:
Brain tumors, Kenya, Sub-Saharan Africa, meningioma, glioma, patterns
Abstract
Introduction: Brain tumors are a multifaceted disease with about fifty different pathological kinds. These tumors are becoming more common over the world.   Gliomas are the most prevalent histological type of brain tumor, accounting for more than 70% of all cases. Recent studies, on the other hand, suggest that global trends are shifting. As a result, this study examines recent data from a tertiary referral center in Kenya, compares current trends to past trends reported from same location, and highlights changes that have occurred. Methodology: Data from the University of Nairobi's Department of Pathology's cancer database for a period of 12 years (2005-2016) was reviewed. Results: Brain tumors were found in 5.8% of the population. The most common age categories for diagnosis of brain tumors were 0-5 years and 51-55 years, both at 8.8%. Female patients (58.2%) presented with more brain tumors than male patients. Meningiomas were the most common histological diagnosis (44.8%), followed by gliomas (34%). Conclusion: The frequency of various histological types of brain tumors, as well as their gender and age distribution, are changing over time in this region. Meningiomas are now more prevalent than gliomas. More efforts should be put toward the identification, diagnosis, and treatment of these tumors, as well as a constant evaluation of overall patterns and trends in brain cancers.
References
Piñeros M, Sierra MS, Izarzugaza MI, Forman D. Descriptive epidemiology of brain and central nervous system cancers in Central and South America. Cancer Epidemiol. 2016 Sep;44:S141–9.
Behin A, Hoang-Xuan K, Carpentier AF, Delattre J-Y. Primary brain tumours in adults. The Lancet. 2003;361(9354):323–331.
Barciszewska A-M. MicroRNAs as efficient biomarkers in high-grade gliomas. Folia Neuropathol. 2016 Dec 27;369–74.
Korir A, Okerosi N, Parkin M. Nairobi Cancer Registry Report 2004- 2008 [Internet]. 2014 [cited 2016 Jul 7]. Available from: http://afcrn.org/attachments/article/85/Nairobi%20CR%20Report%202004-8.pdf
Bondy ML, Scheurer ME, Malmer B, Barnholtz-Sloan JS, Davis FG, Il'yasova D, et al. Brain Tumor Epidemiology: Consensus from the Brain Tumor Epidemiology Consortium (BTEC). Cancer. 2008 Oct 1;113(7 Suppl):1953–68.
Louis DN, Perry A, Reifenberger G, von Deimling A, Figarella-Branger D, Cavenee WK, et al. The 2016 World Health Organization Classification of Tumors of the Central Nervous System: a summary. Acta Neuropathol (Berl). 2016 Jun;131(6):803–20.
Louis DN, Ohgaki H, Wiestler OD, Cavenee WK, Burger PC, Jouvet A, et al. The 2007 WHO Classification of Tumours of the Central Nervous System. Acta Neuropathol (Berl). 2007 Aug;114(2):97–109.
Ohgaki H. Epidemiology of Brain Tumors. In: Verma M, editor. Cancer Epidemiology [Internet]. Humana Press; 2009 [cited 2017 Mar 6]. p. 323–42. (Methods in Molecular Biology). Available from: http://dx.doi.org/10.1007/978-1-60327-492-0_14
Fisher JL, Schwartzbaum JA, Wrensch M, Wiemels JL. Epidemiology of Brain Tumors. Neurol Clin. 2007 Nov;25(4):867–90.
El-Zein R, Bondy M, Wrensch M. Epidemiology of Brain Tumors. In: DSc FA-O, editor. Brain Tumors [Internet]. Humana Press; 2005 [cited 2017 Mar 6]. p. 3–18. (Contemporary Cancer Research). Available from: http://link.springer.com/chapter/10.1385/1-59259-843-9%3A003
Ae W, M R, Fd W. Epidemiology of brain tumors: the national survey of intracranial neoplasms. Neurology. 1985 Feb;35(2):219–26.
Scheithauer BW. Development of the WHO Classification of Tumors of the Central Nervous System: A Historical Perspective. Brain Pathol. 2009 Oct 1;19(4):551–64.
Pereira MS, Klamt F, Thomé CC, Worm PV, de Oliveira DL. Metabotropic glutamate receptors as a new therapeutic target for malignant gliomas. Oncotarget [Internet]. 2017 [cited 2017 Mar 8]; Available from: https://www.ncbi.nlm.nih.gov/pubmed/28212543
Hanif F, Muzaffar K, Perveen K, Malhi SM, Simjee SU. Glioblastoma Multiforme: A Review of its Epidemiology and Pathogenesis through Clinical Presentation and Treatment. Asian Pac J Cancer Prev APJCP. 2017 01;18(1):3–9.
Deorah S, Lynch CF, Sibenaller ZA, Ryken TC. Trends in brain cancer incidence and survival in the United States: Surveillance, Epidemiology, and End Results Program, 1973 to 2001. Neurosurg Focus. 2006;20(4):E1.
Miranda-Filho A, Piñeros M, Soerjomataram I, Deltour I, Bray F. Cancers of the brain and CNS: global patterns and trends in incidence. Neuro-Oncol. 2017 Feb 1;19(2):270–80.
Parkin DM, Bray F, Ferlay J, Pisani P. Global Cancer Statistics, 2002. CA Cancer J Clin. 2005 Mar 1;55(2):74–108.
Darefsky AS, Dubrow R. International variation in the incidence of adult primary malignant neoplasms of the brain and central nervous system. Cancer Causes Control. 2009 Nov 1;20(9):1593–604.
Mwang'ombe NJ, Ombachi RB. Brain tumours at the Kenyatta National Hospital, Nairobi. East Afr Med J. 2000;77(8):444–447.
Ostrom QT, Gittleman H, Farah P, Ondracek A, Chen Y, Wolinsky Y, et al. CBTRUS Statistical Report: Primary Brain and Central Nervous System Tumors Diagnosed in the United States in 2006-2010. Neuro-Oncol. 2013 Nov;15(Suppl 2):ii1-ii56.
Ibebuike K, Ouma J, Gopal R. Meningiomas among intracranial neoplasms in Johannesburg, South. Afr Health Sci. 2013 Mar;13(1):118–21.
IDOWU O, Akang EEU, MALOMO A. Symptomatic primary intracranial neoplasms in Nigeria, West Africa. J Neurol Sci Turk. 2007;24(3):212–218.
Idowu OE, Apemiye RA. Delay in presentation and diagnosis of adult primary intracranial neoplasms in a tropical teaching hospital: A pilot study. Int J Surg. 2009;7(4):396–8.
Das A, Chapman C, Yap W. Histological subtypes of symptomatic central nervous system tumours in Singapore. J Neurol Neurosurg Psychiatry. 2000 Mar;68(3):372–4.
Nakamura H, Makino K, Yano S, Kuratsu J-I, Kumamoto Brain Tumor Research Group. Epidemiological study of primary intracranial tumors: a regional survey in Kumamoto prefecture in southern Japan--20-year study. Int J Clin Oncol. 2011 Aug;16(4):314–21.
Northcott PA, Korshunov A, Witt H, Hielscher T, Eberhart CG, Mack S, et al. Medulloblastoma Comprises Four Distinct Molecular Variants. J Clin Oncol. 2011 Apr 10;29(11):1408–14.
Lubuulwa J, Lei T. Pathological and Topographical Classification of Craniopharyngiomas: A Literature Review. J Neurol Surg Rep. 2016 Jul;77(3):e121–7.
Bao Y, Qiu B, Qi S, Pan J, Lu Y, Peng J. Influence of previous treatments on repeat surgery for recurrent craniopharyngiomas in children. Childs Nerv Syst. 2016 Mar 1;32(3):485–91.
Clark SW, Kenning TJ, Evans JJ. Recurrent ectopic craniopharyngioma in the Sylvian fissure thirty years after resection through a pterional approach: A case report and review of the literature. Nagoya J Med Sci. 2015 Feb;77(1–2):297–306.
Chamberlain MC, Baik CS, Gadi VK, Bhatia S, Chow LQM. Systemic therapy of brain metastases: non–small cell lung cancer, breast cancer, and melanoma. Neuro-Oncol. 2017 Jan 1;19(1):i1–24.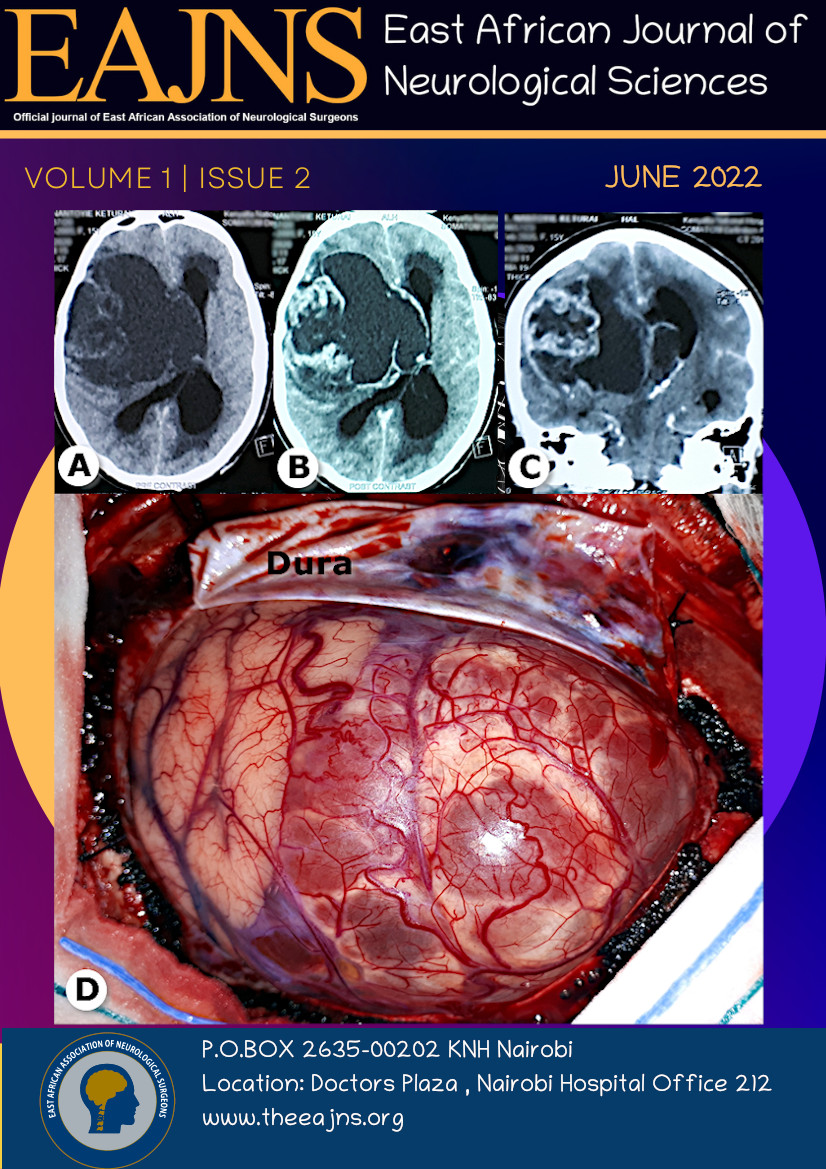 Downloads
How to Cite
1.
Magoha M, Omar M, Kamau C, Okemwa M. Changing Trends of Brain Tumors at Kenyatta National Hospital in Kenya: A 12 Year Picture. EAJNS [Internet]. 2022 Jun. 13 [cited 2023 Oct. 1];1(2):4-9. Available from: https://theeajns.org/index.php/eajns/article/view/30
Section
Original articles
License
Copyright (c) 2022 East African Journal of Neurological Sciences
This work is licensed under a Creative Commons Attribution-NonCommercial-NoDerivatives 4.0 International License.