Recurrent Brain Tumors at The Largest Referral Facility in East and Central Africa- Epidemiology, Patterns and Outcomes: A Descriptive Study
Keywords:
Brain tumors, Kenya, Sub-Saharan Africa, meningioma, glioma, patterns
Abstract
Introduction: The prognosis of brain tumors once treated is variable with outcomes ranging from complete resolution of symptoms to recurrence of the tumor.  Different geographical regions worldwide have different recurrence patterns. This paper describes the epidemiology, patterns and outcomes of recurrence in Sub-Saharan Africa. Methods: A three-year retrospective study starting January 2014 to December 2016 was carried out at the records department of Kenyatta National Hospital (KNH) following ethical approval. A pre-formed questionnaire was filled in with data from files that fit in the inclusion criteria. Data was analyzed using Statistical Package for Social Sciences (SPSS) Version 20.  Results: A total of 18 files were retrieved and reviewed. There were 11 male and 7 female patients with the tumors most commonly occurring in the 0-13 and 26-45 years' age groups. Supratentorial tumors accounted for 66.7% and the commonest among these were craniopharyngiomas at 50.0%. The more common recurring infratentorial brain tumors were medulloblastoma and hemangioblastoma. Surgical interventions were carried out in all patients and the recurrence periods ranged from less than 6 months to greater than 5 years. Fifty-five (55%) percent of the recurrent tumors had a Zubrod score of 0-1. Conclusion: Craniopharyngiomas were the most common recurrent brain tumors seen in this resource limited setting as shown in this study. Despite the resource scarcity, more than half of our patients had a good outcome. Closer follow up with stringent surveillance and provision of adjuvant chemo and radiation therapy with surgery for treatment of recurrences would lead to better outcomes.
References
Korir A, Okerosi N, Parkin M. Nairobi Cancer Registry Report 2004- 2008 [Internet]. 2014 [cited 2016 Jul 7]. Available from: http://afcrn.org/attachments/article/85/Nairobi%20CR%20Report%202004-8.pdf
Bondy ML, Scheurer ME, Malmer B, Barnholtz-Sloan JS, Davis FG, Il'yasova D, et al. Brain Tumor Epidemiology: Consensus from the Brain Tumor Epidemiology Consortium (BTEC). Cancer. 2008 Oct 1;113(7 Suppl):1953–68.
Kim AH, Thompson EA, Governale LS, Santa C, Cahill K, Kieran MW, et al. Recurrence after gross-total resection of low-grade pediatric brain tumors: the frequency and timing of postoperative imaging. J Neurosurg Pediatr. 2014 Oct;14(4):356–64.
Hou LC, Veeravagu A, Hsu AR, Tse VCK. Recurrent glioblastoma multiforme: a review of natural history and management options. Neurosurg FOCUS. 2006 Apr;20(4):E3.
Sun X-F, Zhang F, Zhen Z-J, Yang Q-Y, Xia Y-F, Wu S-X, et al. The clinical characteristics and treatment outcome of 57 children and adolescents with primary central nervous system germ cell tumors. Chin J Cancer. 2014 Aug;33(8):395–401.
Smith AA, Weng E, Handler M, Foreman NK. Intracranial germ cell tumors: a single institution experience and review of the literature. J Neurooncol. 2004 Jun;68(2):153–9.
Darendeliler F, Karagiannis G, Wilton P, Ranke M, Albertsson-Wikland K, Anthony Price D, et al. Recurrence of brain tumours in patients treated with growth hormone: Analysis of KIGS (Pfizer International Growth Database). Acta Paediatr. 2006 Oct 1;95(10):1284–90.
Morris J. Clinical patterns of failure following stereotactic interstitial irradiation for malignant gliowis. Int J Radiat Oncol [Internet]. [cited 2017 Feb 20]; Available from: http://www.academia.edu/20122749/Clinical_patterns_of_failure_following_stereotactic_interstitial_irradiation_for_malignant_gliowis
Louis DN, Ohgaki H, Wiestler OD, Cavenee WK, Burger PC, Jouvet A, et al. The 2007 WHO Classification of Tumours of the Central Nervous System. Acta Neuropathol (Berl). 2007 Aug;114(2):97–109.
Louis DN, Perry A, Reifenberger G, von Deimling A, Figarella-Branger D, Cavenee WK, et al. The 2016 World Health Organization Classification of Tumors of the Central Nervous System: a summary. Acta Neuropathol (Berl). 2016 Jun;131(6):803–20.
Du C, Feng C-Y, Yuan J, Yuan X. Ectopic recurrence of pediatric craniopharyngiomas after gross total resection: a report of two cases and a review of the literature. Childs Nerv Syst. 2016 Aug 1;32(8):1523–9.
Barloon TJ, Yuh WT, Sato Y, Sickels WJ. Frontal lobe implantation of craniopharyngioma by repeated needle aspirations. AJNR Am J Neuroradiol. 1988 Apr;9(2):406–7.
Galdas PM, Cheater F, Marshall P. Men and health help-seeking behaviour: literature review. J Adv Nurs. 2005 Mar;49(6):616–23.
Sun T, Plutynski A, Ward S, Rubin JB. An integrative view on sex differences in brain tumors. Cell Mol Life Sci. 2015;72(17):3323–42.
American Brain Tumor Association. Brain Tumors in Children | American Brain Tumor Association [Internet]. [cited 2017 Feb 23]. Available from: http://www.abta.org/adolescent-pediatric/brain-tumors-in-children.html
Merchant TE, Pollack IF, Loeffler JS. Brain tumors across the age spectrum: biology, therapy, and late effects. Semin Radiat Oncol. 2010 Jan;20(1):58–66.
Lubuulwa J, Lei T. Pathological and Topographical Classification of Craniopharyngiomas: A Literature Review. J Neurol Surg Rep. 2016 Jul;77(3):e121–7.
Bao Y, Qiu B, Qi S, Pan J, Lu Y, Peng J. Influence of previous treatments on repeat surgery for recurrent craniopharyngiomas in children. Childs Nerv Syst. 2016 Mar 1;32(3):485–91.
Clark SW, Kenning TJ, Evans JJ. Recurrent ectopic craniopharyngioma in the Sylvian fissure thirty years after resection through a pterional approach: A case report and review of the literature. Nagoya J Med Sci. 2015 Feb;77(1–2):297–306.
2Smith TR, Cote DJ, Jane JA, Laws ER. Physiological growth hormone replacement and rate of recurrence of craniopharyngioma: the Genentech National Cooperative Growth Study. J Neurosurg Pediatr. 2016 Oct;18(4):408–12.
Balasubramaniam C, Mohan SR, Subramaniam K. Remote delayed recurrence of craniopharyngioma after radiotherapy. J Pediatr Neurosci. 2015;10(1):35–7.
Pierro A, Cilla S, Picardi V, Ferro M, Macchia G, Deodato F, et al. Radiological and clinical results following high-dose intensity-modulated radiotherapy in recurrent craniopharyngioma: A case report. Oncol Lett. 2015 Oct;10(4):2491–4.
Lewis C. H, Anand V, Andrew R. H, Victor C.K. T. Recurrent Glioblastoma Multiforme [Internet]. Medscape. [cited 2017 Feb 23]. Available from: http://www.medscape.com/viewarticle/540150
Kwon SM, Kang S-H, Park C-K, Jung S, Park ES, Lee J-S, et al. Recurrent Glioblastomas Reveal Molecular Subtypes Associated with Mechanistic Implications of Drug-Resistance. PLoS ONE [Internet]. 2015 Oct 14 [cited 2016 Jul 7];10(10). Available from: http://www.ncbi.nlm.nih.gov/pmc/articles/PMC4605710/
Giese A, Kucinski T, Knopp U, Goldbrunner R, Hamel W, Mehdorn HM, et al. Pattern of recurrence following local chemotherapy with biodegradable carmustine (BCNU) implants in patients with glioblastoma. J Neurooncol. 2004 Feb;66(3):351–60.
Ellingson BM, Harris RJ, Woodworth DC, Leu K, Zaw O, Mason WP, et al. Baseline pretreatment contrast enhancing tumor volume including central necrosis is a prognostic factor in recurrent glioblastoma: evidence from single and multicenter trials. Neuro-Oncol. 2017 Jan 1;19(1):89–98.
Weintraub L, Miller T, Friedman I, Abbott R, Levy AS. Misdiagnosing recurrent medulloblastoma: the danger of examination and imaging without histological confirmation. J Neurosurg Pediatr. 2013 Nov 8;13(1):33–7.
Wetmore C, Herington D, Lin T, Onar-Thomas A, Gajjar A, Merchant TE. Re-irradiation of recurrent medulloblastoma: does clinical benefit outweigh risk for toxicity? Cancer. 2014 Dec 1;120(23):3731–7.
Cefalo G, Massimino M, Ruggiero A, Barone G, Ridola V, Spreafico F, et al. Temozolomide is an active agent in children with recurrent medulloblastoma/primitive neuroectodermal tumor: an Italian multi-institutional phase II trial. Neuro-Oncol. 2014 May;16(5):748–53.
Nygaard R, Kivivuori S-M. Treatment for recurrent medulloblastoma with intrathecal liposomal cytarabine and systemic metronomic combination therapy. Anticancer Drugs. 2012 Mar;23(3):342–6.
Bowers DC, Gargan L, Weprin BE, Mulne AF, Elterman RD, Munoz L, et al. Impact of site of tumor recurrence upon survival for children with recurrent or progressive medulloblastoma. J Neurosurg. 2007 Jul;107(1 Suppl):5–10.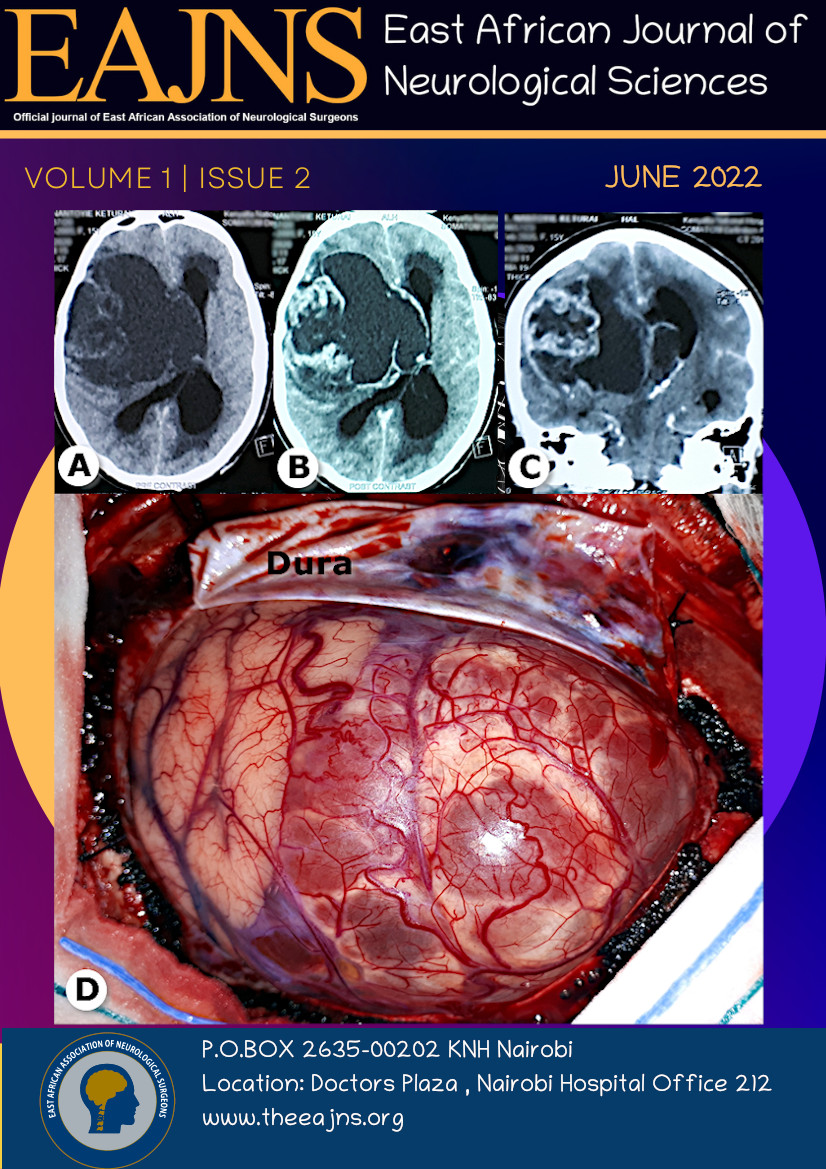 Downloads
How to Cite
1.
Kiboi JG, A. Omar M, W. Ngima A, N. Kamau C. Recurrent Brain Tumors at The Largest Referral Facility in East and Central Africa- Epidemiology, Patterns and Outcomes: A Descriptive Study. EAJNS [Internet]. 2022 Jun. 13 [cited 2023 Mar. 21];1(2):10-9. Available from: https://theeajns.org/index.php/eajns/article/view/31
Section
Original articles
License
Copyright (c) 2022 East African Journal of Neurological Sciences
This work is licensed under a Creative Commons Attribution-NonCommercial-NoDerivatives 4.0 International License.