Variant Anatomy of The External Surface of The Mastoid Bone in A Kenyan Population
VARIANT ANATOMY OF THE MASTOID
Keywords:
Variant, mastoid, external, Kenyan
Abstract
Background: The external surface of the mastoid part of the temporal bone is crucial for localising the mastoid antrum and avoiding facial nerve injury during middle ear surgeries. Its morphology varies by sex, ethnicity, and side, but there's a dearth of information specific to Kenyans. Objective: The study aimed to document the variant anatomy of the mastoid part of the temporal bone in a Kenyan population. Materials and Methods: A cross-sectional study was conducted on 105 dry-sexed skulls from the National Museums of Kenya. The study examined the suprameatal spines and depressions and the presence of mastoid grooves and canals on the mastoid process's external surface. Using a digital Vernier calliper, distances and lengths were measured and statistically analysed. Results: The crest type suprameatal spine was most common (75.2%), with the triangular type in 15.8% of skulls. Suprameatal depressions were shallow in 67.1% and deep in 24.3% of the sides. Mastoid grooves and canals were present in 30.5% and 16.2% of sides, respectively, with both seen on the same side in 24.3% of cases. Distance measurements between structures varied slightly between the left and right sides. Conclusion: Suprameatal spines and depressions were found in the majority of Kenyan skulls, providing surgeons with reliable landmarks. Surgeons should also be aware of the high prevalence of mastoid grooves to prevent iatrogenic vascular injuries.
References
Mansour S, Magnan J, Ahmad HH, Nicolas K, Louryan S. The Mastoid. In: Comprehensive and Clinical Anatomy of the Middle Ear [Internet]. Cham: Springer International Publishing; 2019 [cited 2020 Jan 11]. p. 153–73. Available from: http://link.springer.com/10.1007/978-3-030-15363-2_5
Peker TV, Pelin C, Turgut HB, Anıl A, Sevim A. Various types of suprameatal spines and depressions in the human temporal bone. Eur Arch Otorhinolaryngol. 1998 Sep 30;255(8):391–5.
Standring S, editor. Gray's anatomy: the anatomical basis of clinical practice. Forty-first edition. New York: Elsevier Limited; 2016. 1562 p.
Ulug T, Ozturk A, Sahinoglu K. A multipurpose landmark for skull-base surgery: Henle's spine. J Laryngol Otol. 2005 Nov;119(11):856–61.
Ghonaimi A, Metwaly A, Shalaby S, Eid E, Abd-AlazizAllam O, Sarg N. Morphometric Study Of Mastoid Canal And Suprameatal Triangle Of Human Egyptian Skull, With Gender Determination. 2016 Jan 1;
Sameshima T. Transmastoid Approach for Retrolabyrinthine and Translabyrinthine. In: July J, Wahjoepramono EJ, editors. Neurovascular Surgery [Internet]. Singapore: Springer Singapore; 2019 [cited 2020 Jan 22]. p. 49–57. Available from: http://link.springer.com/10.1007/978-981-10-8950-3_8
Singh M, A. M, Nagashima M. Mastoid Canals and Grooves in adult Japanese human skulls. J Anat Soc India. 2004;
Hadimani GA, Bagoji IB. Study of Mastoid Canals and Grooves in North Karnataka Human Skulls. J Clin Diagn Res [Internet]. 2013 [cited 2020 Jan 11]; Available from: http://www.jcdr.net/article_fulltext.asp?issn=0973-709x&year=2013&volume=7&issue=8&page=1537&issn=0973-709x&id=3205
Choudhry R, Raheja S, Gaur U, Choudhry S, Anand C. Mastoid canals in adult human skulls. J Anat. 1996 Feb;188 ( Pt 1):217–9.
Shaik HS, Shepur MP, Desai SD, Thomas ST, Maavishettar GF, Haseena S. Study of mastoid canals and grooves in South Indian skulls. Indian J Med Heal. 2012;32–3.
Gersdorff MCH, Gérard JM. Atlas of middle ear surgery. Stuttgart New York: Thieme; 2011. 140 p.
Aslan A, Mutlu C, Celik O, Govsa F, Ozgur T, Egrilmez M. Surgical implications of anatomical landmarks on the lateral surface of the mastoid bone. Surg Radiol Anat [Internet]. 2004 Aug [cited 2020 Jan 11];26(4). Available from: http://link.springer.com/10.1007/s00276-004-0235-1
Choi JE, Jang JY, Cho YS. Cochlear Implantation Using a Suprameatal Approach in a Case of Severely Contracted Mastoid Cavity. Korean J Audiol. 2014;18(3):144.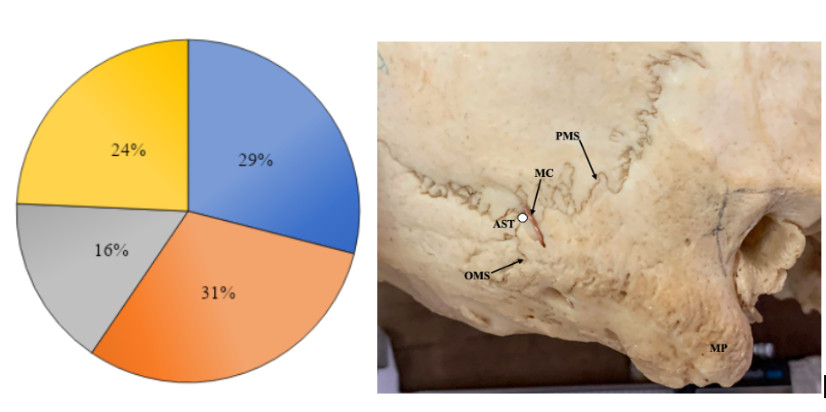 Downloads
How to Cite
1.
Onyango M, Mandela P, Munguti J. Variant Anatomy of The External Surface of The Mastoid Bone in A Kenyan Population: VARIANT ANATOMY OF THE MASTOID. EAJNS [Internet]. 2023 Aug. 13 [cited 2023 Oct. 1];2(2):62-73. Available from: https://theeajns.org/index.php/eajns/article/view/212
Section
Original articles
License
Copyright (c) 2023 East African Journal of Neurological Sciences
This work is licensed under a Creative Commons Attribution-NonCommercial-NoDerivatives 4.0 International License.