Case Report: Chiari Zero Malformation
Abstract
Introduction: Chiari zero, initially dubbed syringohydromyelia without hindbrain herniation, is a rare subset of Chiari malformations. The clinical presentation is usually due to syringohydromyelia. The mode of management is foramen magnum decompression. We report a case of Chiari 0 with multiseptated/multiloculated syringohydromyelia and review the literature. Case report: We presented a 41-year-old man with an 8-year history of progressive numbness. A neurological exam revealed left-sided upper-limb hypopselaphesia, diminished algesthesia, and temperature sensation in the left upper limb and trunk. MRI noted cervicothoracic syringohydromyelia with tonsillar herniation. We performed foramen magnum decompression with duraplasty. His syringomyelia reduced significantly, and his neurological status improved during the three-month follow-up. Conclusion: Chiari 0 is a rare entity thought to occur due to altered dynamics in CSF flow at the craniovertebral junction with resultant syringohydromyelia without tonsillar herniation. Foramen magnum decompression with duraplasty remains the most widely accepted surgical intervention.
References
Pearce JMS. Arnold Chiari, or "Cruveilhier Cleland Chiari" malformation. J Neurol Neurosurg Psychiatry.2000;68:13.
Iskandar BJ, Hedlund GL, Grabb PA, Oakes WJ. The resolution of syringohydromyelia without hindbrain herniation after posterior fossa decompression. J Neurosurg. 1998;89:212–6.
Cesmebasi A, Loukas M, Hogan E, Kralovic S, Tubbs RS, Cohen-Gadol AA. The Chiari malformations: a review with emphasis on anatomical traits. Clin Anat. 2015;28:184–94.
Goel A. Central or axial atlantoaxial instability: Expanding understanding of craniovertebral junction. J Craniovert Jun Spine 2016;7:1-3.
Goel, A. (2014). Is atlantoaxial instability the cause of Chiari malformation? Outcome analysis of 65 patients treated by atlantoaxial fixation. Journal of neurosurgery. Spine. 22. 1-12.10.3171/2014.10.SPINE14176.
Harrison DK. Chapter 9: Pathology of syringomyelia due to Chiari malformation. In: Tubbs RS, Oakes WJ, editors. The Chiari malformations. New York: Springer; 2013. p. 121–5.
Shah A, Sathe P, Patil M, Goel A. Treatment of "idiopathic" syrinx by atlantoaxial fixation: Report of an experience with nine cases. J Craniovert Jun Spine 2017;8:15-21.
Chern JJ, Gordon AJ, Mortazavi MM, Tubbs RS, Oakes WJ. Pediatric Chiari malformation type 0: a 12-year institutional experience. J Neurosurg Pediatr.2011;8:1–5.
Batzdorf U, McArthur DL, Bentson JR. Surgical treatment of Chiari malformation with and without syringomyelia: Experience with 177 adult patients. J Neurosurg. 2013;118:232–42. [PubMed] [Google Scholar]
da Silva JA, dos Santos AA, Jr, Melo LR, de Araujo AF, Regueira GP. Posterior fossa decompression with tonsillectomy in 104 cases of basilar impression, Chiari malformation, and/or syringomyelia Arq. Neuro Psiquiatr. 2011;69:817–23. [PubMed] [Google Scholar]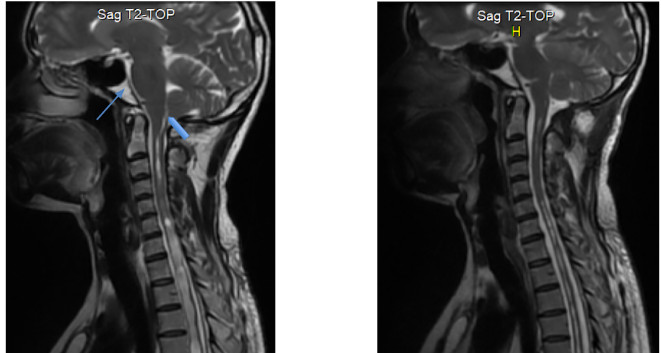 Downloads
How to Cite
1.
Mwangi KN, Nyaoncha Nyangau A, Adili Wobenjo A. Case Report: Chiari Zero Malformation. EAJNS [Internet]. 2023 Feb. 27 [cited 2023 Dec. 9];2(1):43-7. Available from: https://theeajns.org/index.php/eajns/article/view/198
License
Copyright (c) 2023 East African Journal of Neurological Sciences
This work is licensed under a Creative Commons Attribution-NonCommercial-NoDerivatives 4.0 International License.